Order an athletics programme
Owen will design and custom develop Track and Field Programmes for the preparation period, pre-competition and in competition periods. Simply send us an email at sales@athletics-training.com with the following information:
Name and surname:
Age:
Event/s:
Previous best times/distances:
Personal goals:
Training history:
Reviews
A Tribute to Owen and Maryna van Niekerk

As the parent of two young daughters with some sporting ability, it is always a challenge to find a coach that will put the development of a nine year old child before their own personal agenda.

With Owen and Maryna, the maximum of "less is more" is practiced within the personal development of the child. This philosophy is the result of years of experience coupled with research. In spite of the "slow" pace, I saw almost an instant improvement of rhythm. The results of the sympathetic approach are children who ALWAYS look forward to training, although it takes up so much of their afternoons.

Attitude, coupled with the overall development of the young athlete, is leading my children toward competing in all aspects of the sport – high jump, long jump, hurdles and sprints. In addition they excel in all school sports like netball and hockey.

After all, who better to train your child then a coach of international repute and a former athlete and sport psychologist?

- Ronelle Lowe.

The King of Coaches

I have trained under many coaches, trained many different sports and have had the privilege of working with great trainers and coaches. To date, Owen van Niekerk still remains a beacon, toward which I can still return, even after many, many years.

Owen understands his athletes, knows how they function and knows how to achieve the best possible results out of them. He understands what he is coaching and more often than not, develops new concepts and training methods to enhance his athletes performances. Coaching and training has been Owens life, and will be forever more. Personally, Owen has pushed me to achieving great heights, purely by knowing what makes me tick. He knows when to push and when to back off…a very important trait to have, especially when dealing with athletes.

Owen, thank you for all you have contributed to my athletic career and hope we can achieve a couple more times on the international front, on the Masters Circuit.

- Warren McCann, Power Blast
I started training with Owen and Maryna van Niekerk in February 2010. I have been doing athletics for 11 years.

I had numerous coaches during the time that I've been practicing this sport, and in these 11 years that I've been doing athletics, I never had such excellent coaches that trained me.

Since I started training at Owen and Maryna my times significantly improved. My best time that a ever ran in the 100 m's were a 10.58 seconds electronic.

That was 9 years ago and since then I really struggled to run a faster time. Owen and Maryna helped me a lot to improve by running faster and decreasing my time by 2 seconds. This was done in 7 months time. I believe this is due to the fact that for the first time in my life, I started training the right way.

Believe me when I say, there is a difference between training hard and training right. That is the difference between running a 10.00 second flat in the 100 m's and a 10.20 seconds in the 100 m's. Through years of research Owen and Maryna gained a tremendous amount of knowledge and skill regarding athletics, athletic training and exercise etc, and this has proven to be fruitful when you start measuring their success rate.

They poses over an enormous amount of expertise and not only have I been blessed to be trained by them and being a good athlete but also have they taught me the things they know. I believe that this is also necessary because knowledge needs to be passed on to the next generation in order to help others. I believe that this is also one of their motives in training and coaching, to not only help others identify their talent, train and develop good athletes but also to pass on their knowledge and understanding of this sport.

I've been really blessed to train with Owen and Maryna and I believe that they are the instruments in God's hands that He wants to use to help me to develop and reach my full potential in athletics. I also believe that with God's help and blessing hand and their assistance I definitely stand a chance to qualify for the 2012 Olympic Games in London, as this is also my long term goal.

Thank You Owen and Maryna

You mean a lot to me.

Regards.

- Pieter Denysschen, 100 m Specialist Athlete
Athletics training with Owen and Maryna

It is not every athlete that has the privilege to train under two of South Africa's legends in the field of Athletics. We at Peak Performance do, and enjoy the lessons and instruction to build us into real athletes.

Oom Owen works out every training exercise scientifically; we sit back and leave the training programme to him. With years of experience he is South Africa's most knowledgeable athletics coach.

Maryna looks after our emotional side and further ensure each athlete follow his programme. With her numerous years as a professional athlete and in-depth knowledge of sports psychology she looks after all our athletics needs.

- Riaan Oberholzer
Atletiek Oefeninge

Ek is'n atleet wat huidiglik vir Peak Performance Atletiekklub hardloop. Ek is 'n finale jaar student in sportbestuur. As persoon gee ek altyd 110% met alles en is baie krities op myself. Ek oefen gereeld vanaf Maandag tot Saterdag. Vandat ek 16 jaar oud is neem ek deel aan sport en het tot onlangs nog baie min resultate gewys, vir my harde werk.

Ek het by ander afrigters geoefen waar ek as 'n 200m en 400m atleet myself "dood" moes oefen het en niks bereik het nie. Ek het net gevoel ek pas nie in nie omdat daar altyd op my geskree was as ek nie my tye gehardloop het nie. Ek het nooit eers geweet wat spoed-oefeninge is nie en wat dit vir 'n atleet beteken nie.

'N paar maande gelede het ek oom Owen ontmoet by 'n naelloop kurses. Hy het my dadelik erken omdat ek vir 'n par maande op my eie moes oefen en hy het met my gepraat en gese "Ek is 'n goeie atleet maar ek het spoed nodig om baie beter te presteer" Ek het op 1 Mei 2010 by oom Owen en tannie Maryna begin oefen en wat 'n ervaring!

As atleet het ek nog altyd na 'n afrigter gesoek wat regtig omgee vir 'n atleet en vanaf die eerste dag het ek gevoel dat daar 'n besondere verhouding tussen atletiek en ons bestaan. Reeds die eerste dag het hulle dadelik vir my punte uitgewys wat tegniek betref en hoe om meer ekonomies te hardloop. Ek het my oefeninge geweldig begin geniet en voel ek is op 'n goeie pad en dat ek by mense oefen wat weet wat hulle doen en hoe om atlete korrek af te rig. Ek weet ek is in goeie hande en "stress" nie meer oor elke dag se oefeninge nie.

As atleet kon ek nog nooit onder 11.3 sekondes vir die 100m en onder 23 sekondes vir die 200m hardloop nie. Binne 5 maande, op my eerste byeenkoms bring ek my tye af na 10.8 en 22.3 sekondes. Ek glo ek gaan nog baie verbeter. Die rede vir die verbetering binne 5 maande is effektiewe en korrekte oefeninge. In plaas daarvan om 8 x 300m in een oefensessie te doen het ek begin spoed doen, sowel as oom Owen se program, wat al die ander energiebronne ook insluit. Dit het baie vir my begin beteken.

Die verhouding tussen al die ander atlete in die groep is baie gesond, opbouend en stimulerend, sonder jaloesie en dit maak die oefeninge baie lekker. Niemand skreeu op jou as jy op 'n dag nie goed voel of nie die tye hardloop wat van jou verwag word nie. Oom Owen en tannie Maryna het die kennis en ervaring om atlete af te rig sonder om onnodige druk op hulle te plaas.

Na my eerste 5 maande by my nuwe afrigters kan ek regtig met trots se dat hulle baie goed is en altyd postitief teenoor dit wat hulle doen en teenoor elke atleet. Hulle is ook trots op elke atleet, maak nie saak wat jou prestasies is nie. Ek hoop dat ons nog 'n lang pad sal saam loop en dat hulle sal help om die beste uit my te bring.

- Jaco Mitton
Featured Books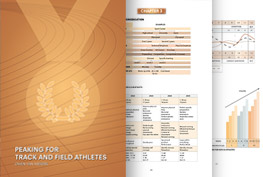 Peaking for Track and Field Athletes
by Owen van Niekerk
Periodisation is the most successful method in today's world for organizing, training or competitive athletes. It can be applied to any event in Track and Field. The book explains periodisation and how to use it effectively in the South African setting.
Featured Books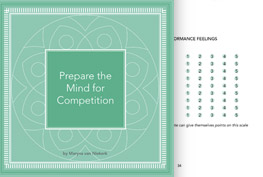 Prepare the Mind for Competition
by Maryna van Niekerk
Prepare the mind for any competitive performance, whether it be academics, sport, cultural or just day-to-day peak performance.