Athletics Programmes and Programming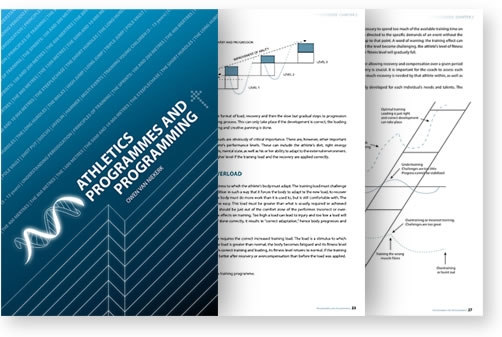 Overview
    Purchase our ebook below for access to immediate download.
    The book is provided in PDF format and licensed per user.    
    Payment is 100% secure. Please contact us for technical
    support queries.
It is Owen van Niekerk's concern over the hap-hazard, unscientific way in which so many training programmes are put together that inspired him to share a life time of experience with coaches and athletes in this book.
Simple and practical methods of creating and presenting programmes to achieve effective training objectives will be obtained if the book is studied and followed.
The book contains a gold mine of essential information for any person responsible for the training of an athlete; albeit a professional coach the parents of an athlete or the athlete him/herself.
Crammed with well-researched and proven technical guidelines, the information will enable you as a coach to develop a training regime for each of your athletes that will give him/her a competitive edge both on the Track and on the Field. 
The book is all about producing world class athletes who reach their full potential by ages 20 to 28 and go through their careers without major injuries, by guiding talented athletes correctly, ensuring that they take the right steps at the right time.
About the book
To work out a correct programme for each individual athlete is and art a very fine art indeed.
- Owen van Niekerk
The first part of the book describes theoretical information on the development of programmes for athletes. It describes why athletes with fast twitch fibres should train differently from athletes with slow twitch fibres. Owen desrribes training methods that can have a positive influence on the energy systems of the athlete.
The book is loaded with examples of training programmes for all track and field events. It includes out of season and pre-season build-up programmes, peak season programmes, programmes for school children as well as mixed programmes for multi-events athletes.
Owen van Niekerk coached more than a thousand South African Champions in his long career is now sharing his ideas of success with the younger generation. Every page is loaded with information about training programmes and is a diamond for every coach and athlete.
Through his years of experience he realized that some training regimes can do more harm than good to an athlete and that athletes can stay at one level or even gets worse by doing the wrong types of training.
This book for track and field athlete coaches and parents contains programmes for the sprints, middle and long distances, the hurdles as well as the throwing event. It includes programmes for the build-up during the pre-competition season and the peak season.
Reviews
My name is Martin Smith, I'm 31 years old. My wife Marna and I started training at Peak Performance a year ago. I did not run a 800m or 400m for about 10 years, but within 6 months of training with Owen and Maryna I was running better times than when I was 18 years old! Their knowledge, methods and approach to training is unique and unparalleled. They emphasize on development by focusing on technique, mental strength and not only fitness, giving you a complete training experience.

Martin Smith
.... and he's done it again!

With this book, Owen van Niekerk his proven himself the best equipped to coach all Track and Field events with authority and to express himself expertly in all aspects of coaching.

It is an honour to know a man of his stature and to know that his country is capable of producing individuals of such quality, individuals who have athletics running through their veins. Owen, South Africa salutes you.

Henry, J. Windell – Athletic Administrator.
Table of Contents
Chapter 1         Has Your Athlete Got What It Takes?
Chapter 2         Principles of Training 
Chapter 3         Understanding Periodization
Chapter 4         The Sprints 100 and 200 Metres  
Chapter 5         The 400 Metres
Chapter 6         The 800 Metres  
Chapter 7         The 1500 Metres  
Chapter 8         The 5000 and 10 000 Metres  
Chapter 9         The Steeplechase  
Chapter 10       The Short Hurdles 
Chapter 11       The Long Hurdles  
Chapter 12       The Walks 
Chapter 13       High Jump  
Chapter 14       Long Jump  
Chapter 15       Triple Jump  
Chapter 16       Pole Vault 
Chapter 17       Shot Put 
Chapter 18       Discus Throw
Chapter 19       Javelin Throw
Chapter 20       Hammer Throw 
Chapter 21       Multi Events 

Download a free sample
Download the first few pages of the book here as a preview: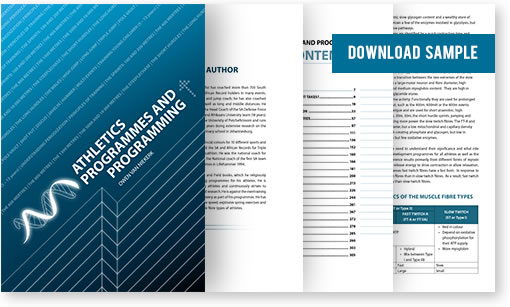 Price
$ 15.00 (approximately R225.00)
Featured Books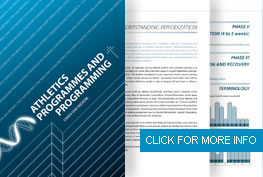 Athletics Programmes and Programming
by Owen van Niekerk
Gold medals galore – this is synonymous with the 60-year career of one of South Africa's most respected coaches, Owen van Niekerk. And now Van Niekerk is sharing all the secrets of his success in Athletics Programmes and Programming!
Featured Books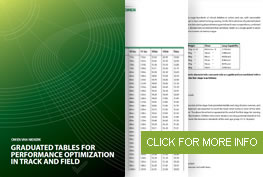 Graduated Tables for Performance Optimization in Track and Field
by Owen van Niekerk
The book will provide the reader with answers to two critical questions: 1) What are the essential criteria that should be met by any athlete wishing to participate in a specific Track or Field event? 2) How does a specific athlete measure up to these criteria?