Mental Health for Competition: Preparing the Mind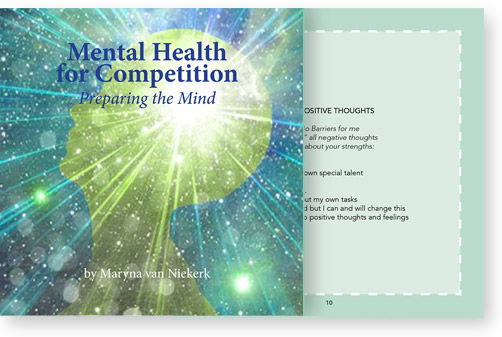 Overview
Purchase our ebook below for access to immediate download.
The book is provided in PDF format and licensed per user.
Payment is 100% secure. Please contact us for technical
support queries.
Mind over matter
Maryna van Niekerk is fascinated by the power of the mind to either sabotage or enhance performances before and during competitions.
This booklet is a wonderful resource to create awareness for the mental preparation of athletes.
It is vital that athletes develop their mental skills associated with best performance from an early age.
Maryna has been passionate about the mental preparation of her athletes and has now made her guidelines for some of the most important mental skills available to you.
Table of Contents
The Seven C's of Success
Attributes of Successful Athletes
Create Positive Thoughts
Develop a Positive Self-Image
Create Positive Emotions
Breathing
Relaxation
Visualization
Positive Self Attributes
Components of Flow
Warming Up
Stretch
Drills for Athletes
Settle Down in Call Room
Walk Onto the Competition Area
Remember
Event 1
Event 2
Event 3
Concentration Dimensions
Self-Evaluation
Eye Control During a Meeting
Negative Influences "Not" to Focus On
Price
$ 15.00 (approximately R270.00)
Featured Books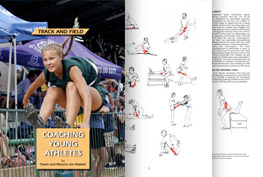 Track and Field Coaching Young Athletes
by Owen and Maryna van Niekerk
This book is for coaches, teachers and parents who have young athletes in their school or training groups. The book provides many well illustrated activities to use for the selection of young athletes for further coaching. A series of drills and coaching tips, suggestions for planning programmes, and methods for improving the level of safety are provided.
Featured Books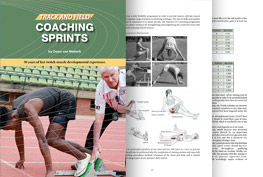 Track and Field Coaching Sprints
by Owen van Niekerk
This book is for coaches, parents, sprinters and all the young beginners, to study the correct art of sprint training, to improve their athletic ability and natural talent. To become a world class sprinter the athlete should first be identified, tested and only then developed in the correct way.